Please read the instruction added to the printer before turning it on for the first time (Quick Start Quide).
1. Take the printer, accessories and filament out of the box.
2. Remove the yellow shipping clips.
3. Remove the security foil from the plastic covers. Attach covers to the printer sides.
4. Install the spool holder on the right side of the device (WARNING! Left handed thread).
5. Attach the filament cleaner to the upper side of the printer with the allen tool provided with the package.
6. Unpack the filament, cut its tip off with scissors and place it on the handle.
7. Unlock the extruder by moving lever to the left (counterclockwise).
8. Route the filament through the cleaner.
9. In case the filament does not pass through the cleaner tube, follow the instructions below: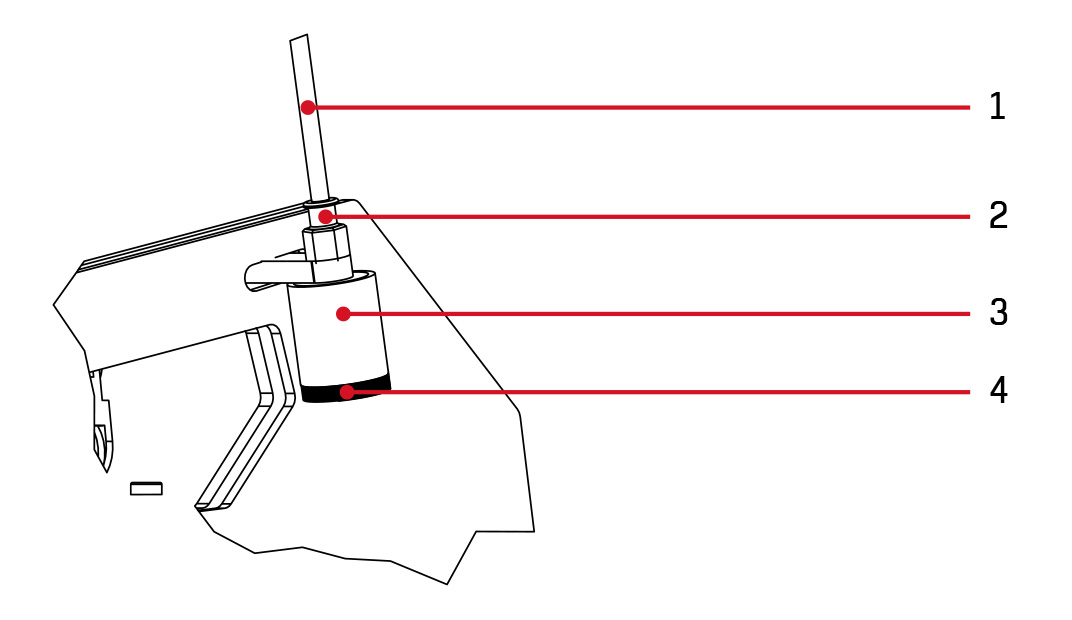 I. Remove the teflon tube (1) from the cleaner (3) – by pressing and holding the red clamping ring of the pneumatic coupling (2) and pull the tube out (1).
II. Unscrew the cleaner's nut (4) and remove the sponge inlay (3).
III. Pass the filament through the hole of the cleaner's cap (4) and then pierce the sponge located in the cleaning tool in the cleaning tool with the tip filament.
IV. Pass the filament through the sponge (3), insert the filament and the sponge to the cleaner and tighten all with the cleaner's nut (4).
V. Push the filament through the teflon tube (1), strighten the end of it and insert it to pneumatic couple (2).
10. Strighten up the end of the filament and insert it into the hotend.
11. Attach the power cable to the printer.
12. Turn the printer on.
13. Follow the WIZARD on the printer's display.